Welcome to The Master's Academy
Past Alumni Spotlights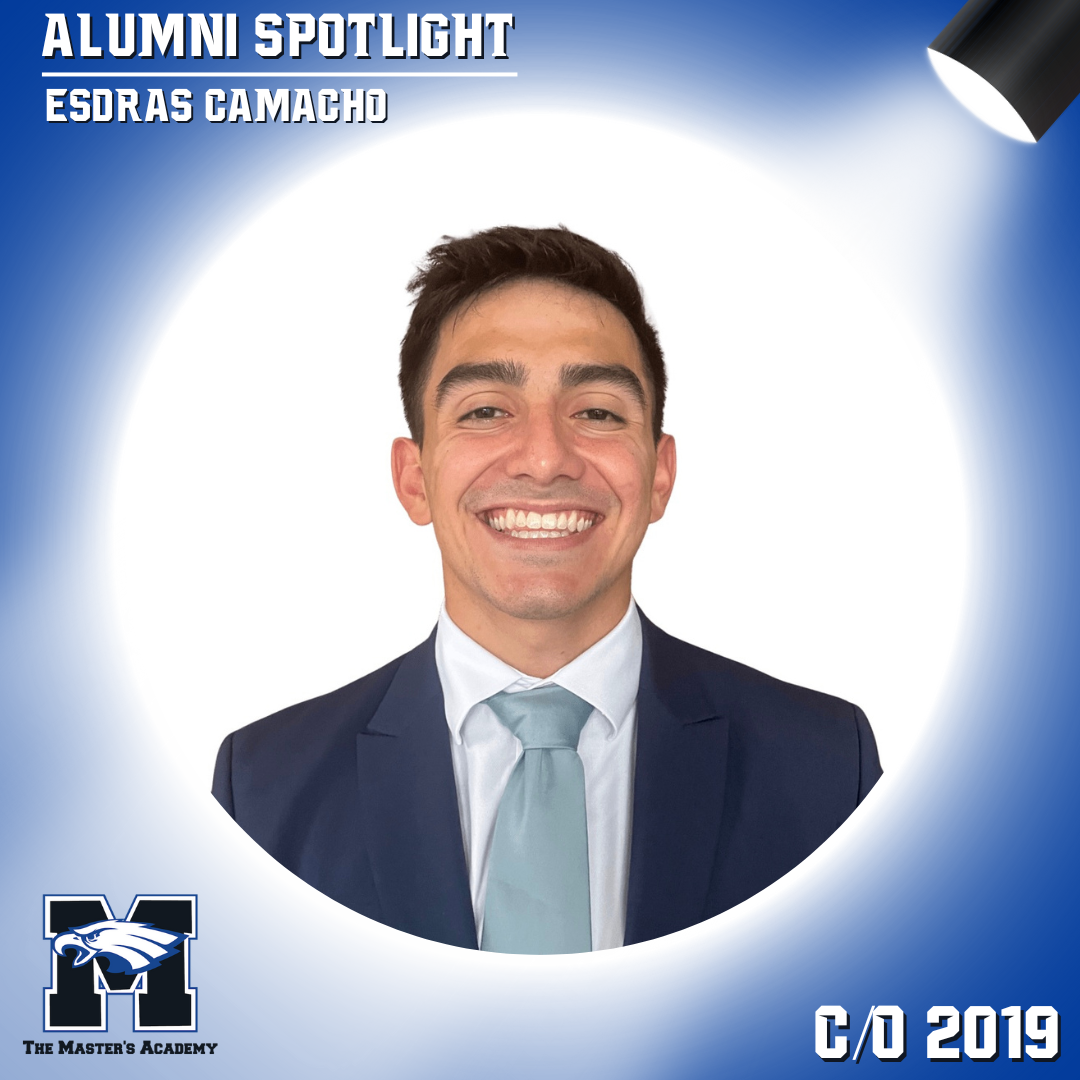 September's Alumni Spotlight is on Esdras Camacho! Read below to learn what he's been up to since graduating in 2019…
Since graduating from TMA, what have you been up to?
After graduating from TMA I attended the University of Florida, where I studied chemical engineering. During my time at UF I built a wonderful community around me, a lot of which stemmed from my involvement in UF's Christian fraternity, Kappa Phi Epsilon. After graduating, I was selected to be an SEO law fellow, where I worked as a summer associate at a law firm in New York City. I am now in Cambridge, Massachusetts, where I'll be starting my first year at Harvard Law School, a dream that I've had since I first got to The Master's Academy.
What universities did you attend and/or are currently attending?
University of Florida, 2023 Harvard Law School, 2026
What did you major in and/or are currently majoring in?
Chemical Engineering
How have you seen God move in your life recently?
When I graduated from TMA, I didn't plan on going to the University of Florida, and I was disappointed by my college decision. Very quickly, however, my time at UF was shaped by the people in my life, many of which I found through Kappa Phi Epsilon Christian Fraternity. Having a strong Christian community was the biggest blessing I could have asked for; I fell in love with the university and was thankful for the growth it prompted in me. Needless to say, I couldn't have accomplished the goals I've set for my life without His guidance.
What's a fun or special memory from your time as a student at TMA?
Some of my favorite memories include getting to speak at graduation and winning a state medal for Track and Field with my relay team. Going to Costa Rica for a mission trip during my senior year was also a very impactful experience in my life.
What's one piece of advice you would give a current TMA student?
Trust in the path that God has created for you. The things you see as setbacks or disappointment are building you up to be the best person you can be.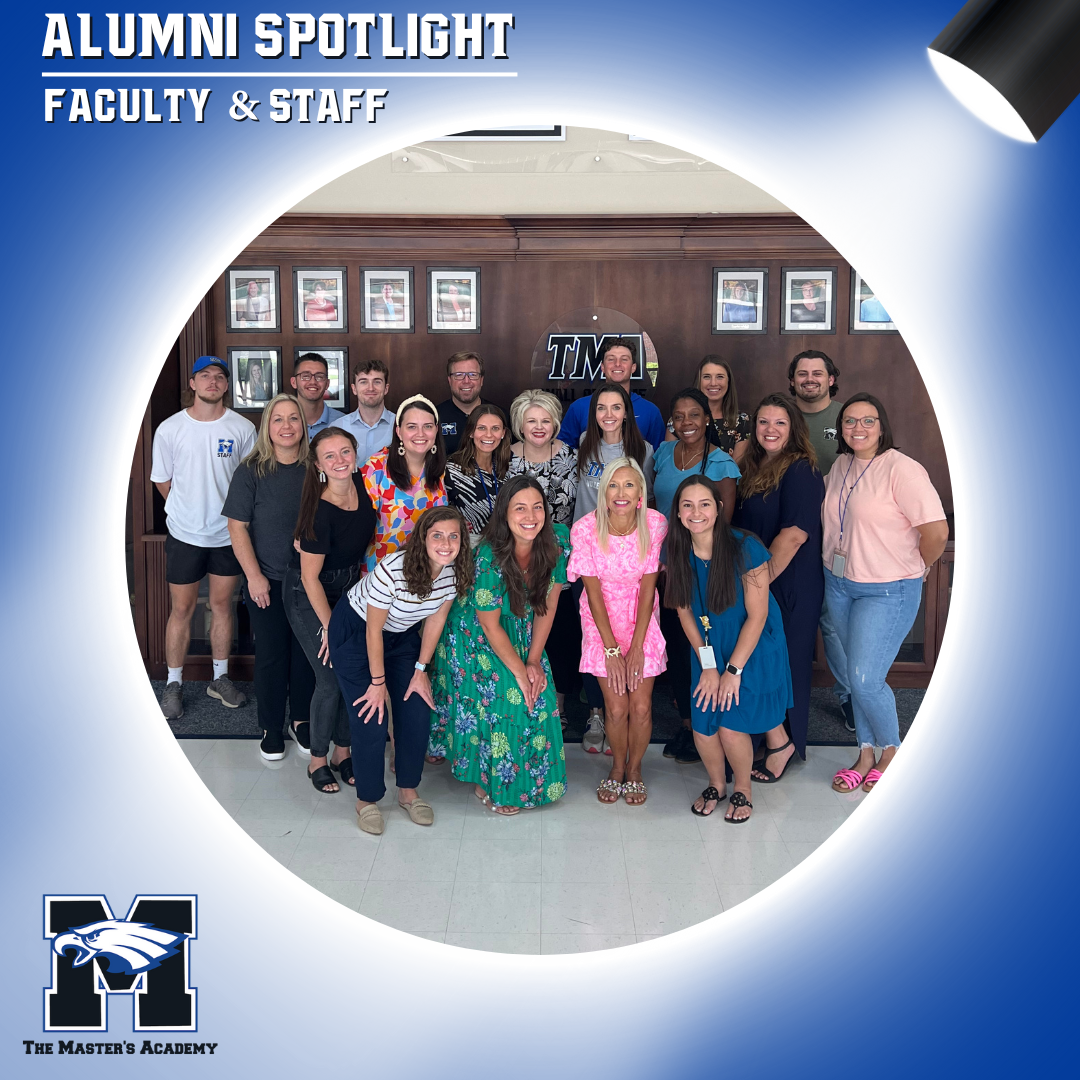 August's Alumni Spotlight is on all the amazing alumni that are now a part of the faculty and staff here at The Master's Academy. Read below to see their graduation year and the ways they now serve at TMA…
Nikki Falana | 1992 | LS Intructional Coach
Monica Porter | 1993 | Dean of Students
Rachel Marks | 1995 | Senior Executive Assistant/ Operations Project Manager
Natasha Udvari | 1997 | PK3 Teacher
Marcus Mennenga | 1997 | Director of Advancement and Community Relations
Stephanie Smith | 2005 | Athletic Director/ Academy Director
Caren Heuslin | 2006 | LS Aftercare Coordinator/ LS Lunch Room
Amanda Hofer | 2007 | First Grade Teacher
Victoria Cress | 2008 | Third Grade Teacher
Colin Miller | 2010 | HS Science Teacher
Kasen Raines | 2013 | STEM Teacher
Tiffany Ledford | 2015 | Head Varsity Volleyball Coach
Savannah Sprague | 2015 | LS &MS Art Teacher
Abby Jones | 2015 | LS Art Teacher
Tanner Rubio | 2016 | US PE Teacher/ Golf Coach/ JV Basketball Coach
Grace Kearney | 2017 | HS Bible
Tori Jones | 2018 | Preschool Coordinator and Camp Eagle Director
Ashlee Priest | 2018 | HS English Teacher
David Arroyo | 2019 | Head JV Baseball Coach
Jeremy Birkmire | 2019 | MS Science Teacher
Katie Luscombe | 2019 | Second Grade Teacher
Gabrielle Pardo | 2019 | Communications Assistant
Joli Stephans | 2019 | LS Music
Colson Vallery | 2019 | MS Math Teacher
Hope Kelley | 2020 | Head JV Cheer Coach/ Assistant Varsity Cheer Coach
Jordan Porter | 2021 | Game Manager