Welcome to The Master's Academy

Alumni Spotlight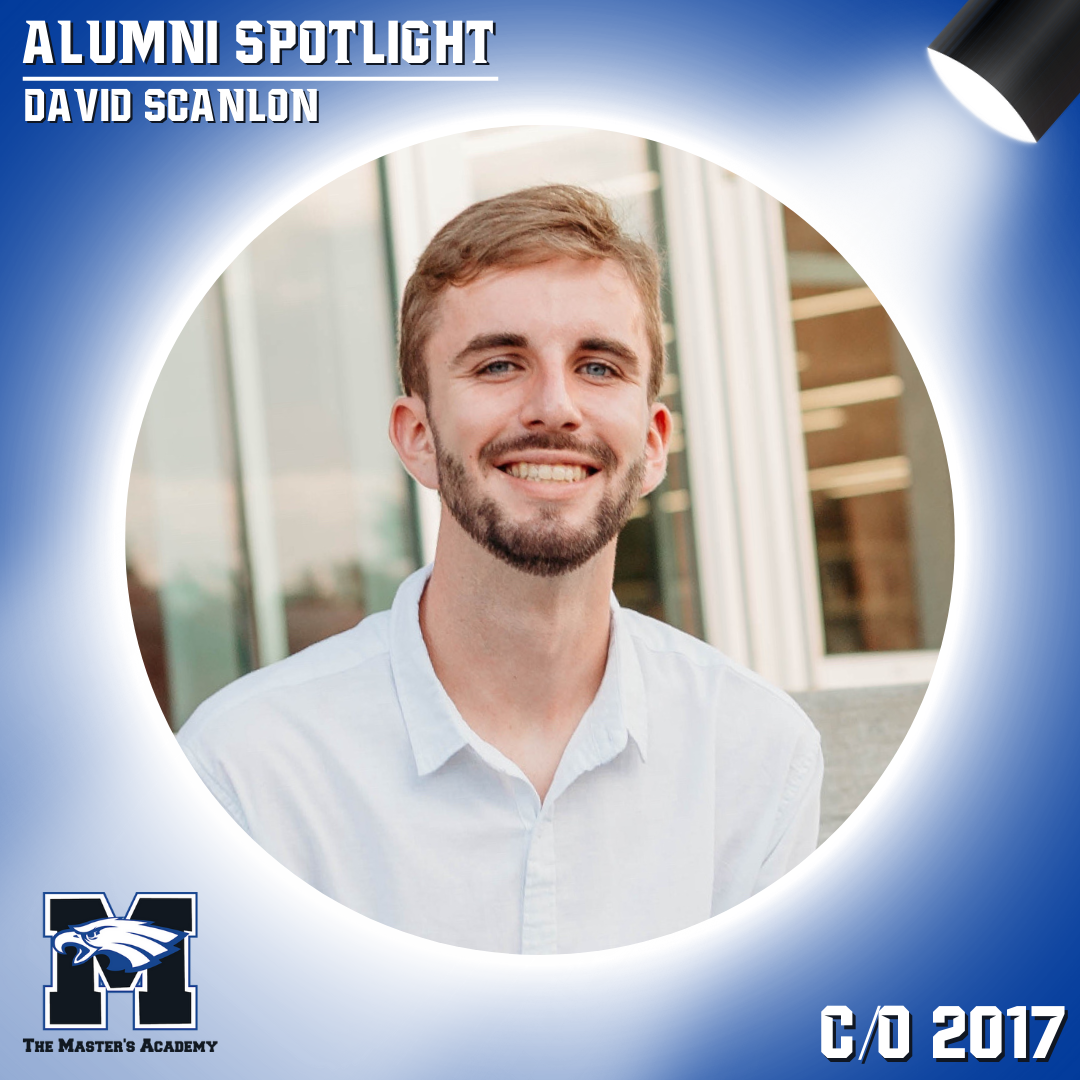 December's Alumni Spotlight is on David Scanlon! Read below to learn what he's been up to since graduating in 2017…
Since graduating from TMA, what have you been up to/ what are you doing now?
Big question—that's a lot of years. I went to UCF to study finance, and I somehow graduated, which just goes to show that God can accomplish infinitely more than we might ask or think. During my time at UCF, I spent some time wakeboarding competitively, coaching at TMA for a few seasons (shoutout to the swim team), and interning all over the place. Tragically, I had to graduate from UCF and become an actual adult, but luckily one of my internships hired me full-time as a financial analyst, which is my current job. Anyway, since July 2022, I've been working, serving at church, and enjoying time with my friends. No complaints here.
What university did you attend?
I graduated from UCF in 2022, but I came back for grad school. I'm hoping to be all done in spring 2025.

What did you major in?
Finance
Are you part of any ministries at or outside of your church?
Yes! I serve in the high school and college ministries at Action Church. High school is awesome because it's where I started an actual relationship with Jesus, so it's very special to me that I can lead students through a time that was so crucial in my own life. For college, we launched that ministry during my last semester at UCF. It's been really cool to see it go from like twenty students planning it out in an office to seeing over a hundred people show up to a College Night.
In what ways have you seen God move in your life recently?
My focus recently has been on Psalm 27:4, which says, "The one thing I ask of the Lord — the thing I seek most — is to live in the house of the Lord all the days of my life, delighting in the Lord's perfections and meditating in his Temple." I can ask God for this or that or the other thing, but it should all stem from that deep desire to be close to Him. So, whether it's a bad day at work or something at church doesn't go the way I wanted it to, the psalm has kind of framed my perspective around the thought of, "okay, that happened, but how can I use this to push me closer to God? Where is He in all this?" I know it's kind of a weird work-around answer for this question, but that's where my focus has been lately and that's where I've noticed God moving recently.
In what ways do you believe TMA helped prepare you for your adult life?
Honestly, having a graduating class of eighty-something people was pretty beneficial looking back. So much of adult life is people-centric. You go to work with people, you drive home surrounded by people (in cars, but they're still people), maybe you come home to roommates, maybe you find yourself surrounded by people in church on Sunday or in a small group during the week. My point is that there are a lot of things in life that revolve around the way you interact with others. You can't avoid people in a class of eighty-something, so you learn how you need to spend time with people who might not have that much in common with you.
What's a fun or special memory from your time as a student at TMA?
I think one of my favorites has to be when I was in Independent Art my senior year. I took art like every semester I could from 6th-12th grade, so by the time I was a senior, I was at a level where I basically assigned myself art projects with Mrs. Rivera's approval. Maybe I was feeling sentimental during my last semester as a TMA student, but I wanted to make a project so big that it physically couldn't leave the art room. Somehow I got permission to make this giant fork out of wire and plaster, which I was basing off of this giant spoon sculpture in Minnesota ("Spoonbridge and Cherry" if anyone is curious). Anyway, the fork I make is like eight feet long and weighs maybe 25 pounds. I don't know how I got permission to mount it on the wall, but it was too heavy for command strips, so I recruited two of my friends from the football team to help me nail it to the wall. I'll be the first to admit I wasn't actually good at art whatsoever, so this thing was a total eyesore. It took me like two weeks to make it, but if I told you it took 45 minutes, you'd believe me. Anyway, I was told it would be taken down immediately after I graduated, but some friends and I visited a few of our teachers during spring break of our freshman year of college, and it was still on the wall. I think it's a really fond memory I have because art was always a class I really enjoyed, and it was like one last big, fun, ridiculous project to top it all off.
Reflecting on what you have learned in your adult life so far, what's one piece of advice you would give a current TMA student?
It's not a bad thing if you need help; it's only a bad thing if you need help and refuse to get it. I was on a first-name basis with every teaching assistant I ever had at UCF because I was at their office hours every single day they were open. Failure isn't final until you quit. I once got a 12.5% on a calculus exam and then got a 100% on the next one because I went and got help five days a week until I understood what we were doing.